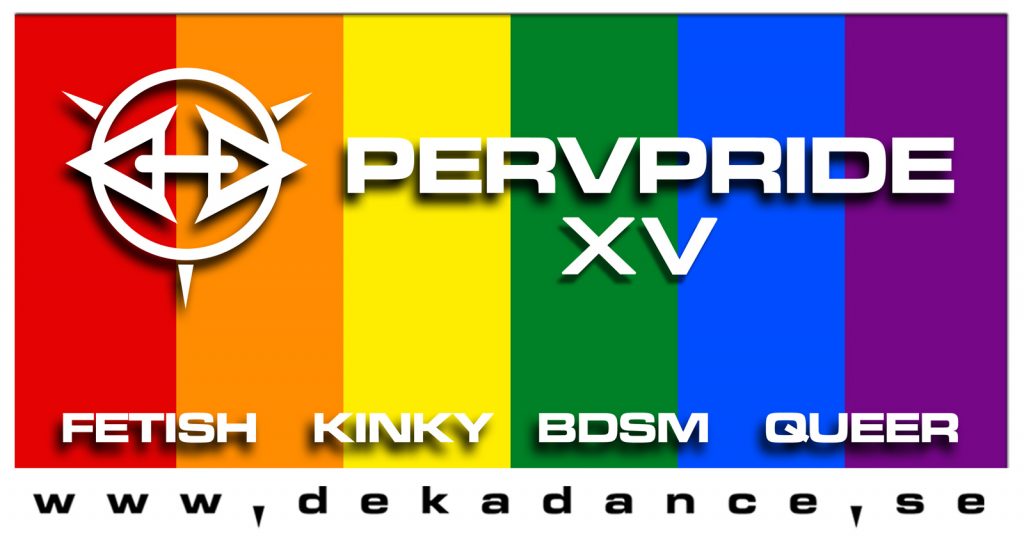 Perv Pride XV
Datum:
3 augusti 2019
Tid:
21:00 - 03.00 och notera att Insläppet stänger 00.00
Plats:
Slakthuset, Slakthusgatan 6, Stockholm. (T) Globen
Pris:
Fullt pris 320 kr, reducerat pris 190 kr* Garderob ingår i priset, inga återköp.
*biljetter för de med begränsad ekonomi - för studenter, arbetslösa, sjukskrivna och pensionärer.
Biljetter:
Kan endast köpas via Dekadance. Inga biljetter säljs i dörren.
Medlemskap krävs. Visa alltid upp ID i entrén! Medlemskapet är gratis.
Dresscode:
Ordinarie dresscode gäller.**
Totalt fotoförbud gäller som alltid, mobiltelefon är endast tillåten inom markeradem obilzoner. Om du vill bli fotograferad, fråga en av våra fotografer!
Vi välkomnar kinksters att med regnbågsflaggan i topp ta sig an en natt med fokus på fetisch, mingel, dans och intimitet! Vi fortsätter på 15-årstemat: 2004 hade vi vår första Perv Pride!
Detta är kvällen då vi uttrycker hur stolta vi är över vilka vi är och vad vi gör. Vi är stolta över att vara en queerförening. Vi är stolta över hur långt vi har kommit i kampen för större acceptans för fetischism och BDSM i samhället. Vi är stolta över att samla så många fantastiska människor med så många olika läggningar, fetischer, könsidentiteter och sexualiteter i en och samma öppensinnade gemenskap. Vi är Pride!
För att ta Perv Pride XV till nästa färgsprakande nivå så laddar vi lokalen med UV, laser och regnbågens alla färger. Vi välkomnar kreativitet och fantasi!
Som vanligt blir det dansgolv med tung musik från flera DJs, samt lekutrymmen, playroom och artister/performers!
Shower & Performance
23:00 - 23:15 Progressive Genitalia
00:00 - 00:30 COBRAH
Installationer
Bodypainting av Post-Mortem.se
Shiner's hörna
Kärleksfotografering med Infra-kamera av James_Bondage
DJ's:
Linda Pistol, Rocco, Evelina Nässén, DJ Slice och DJ Slackerbith
Dekor & Ljus:
Dekadance, Tac, Rob samt pH7
Fotografer:
Darklark (DS), James_Bondage (DS), Daniel Zajd, Lustmord (DS), Olav Holten (Pride)
**OBS! Dekadance dresscode fr.o.m. Feb 2019 gäller för denna fest, se
Dresscode sidan
för mer information. Ni får gärna välja era färggladaste fetischkläder dagen till ära, då vi kommer bada lokalen i UV-ljus. Utöver vår ordinarie dresscode godkänner vi den här festen extravaganta outfits, tänk glitter, glam och glamour!
Om du är osäker på om din klädsel är godkänd, skicka en bild till dresscode@dekadance.se i god tid före festen. Har du vanligtvis bara svarta fetischkläder? Komplettera gärna med regnbågar, glitter eller annat som lyser i UV.
Volontärer behövs verkligen, för att gemensamt hjälpa till med att planera, rodda och dekorera inför evenemanget tillsammans med oss i styrelsen, så hör av dig till oss på info@dekadance.se!
English:
Date:
August 3, 2019
Time:
21.00 - 03.00 and obs that the last administration is at 00.00
Location:
Slakthuset, Slakthusgatan 6, Stockholm. (T) Globen
Price:
Full price 320 SEK, reduced price 190 SEK* Coat check included in ticket price, no refunds.
*tickets for those with limited finances - for students, unemployed, on sick leave and retirees.
Tickets:
Can only be purchased through Dekadance. No tickets are sold at the door.
Membership is required. Always show ID at the entrance! Membership is free.
Dresscode: Dekadance regular dress code applies. **
Total photo prohibition, mobile phones are only allowed in selected mobile zones. If you want to be photographed, ask one of our photographers!
We welcome kinksters with the rainbow flag held high to join us in a night focused on fetish, mingling, dancing and intimacy!! The 15 year anniversary continues - in 2004, we celebrated our very first PervPride.
This is the night when we express how proud we are about who we are and what we do. We are proud to be a queer association. We are proud of how far we have come in the fight for greater acceptance for fetishism and BDSM in society. We are proud to gather so many fantastic people with so many different layouts, fetishes, gender identities and sexualities in one and the same open minded community. We are Pride!
To take Perv Pride XV to the next colorful level, we load the room with UV, laser and all the colors of the rainbow. We welcome creativity and imagination!
As usual, there will be a dance floor with heavy music from several DJs, as well as play rooms and artists / performers!
Shows & Performances
23:00 - 23:15 Progressive Genitalia
00:00 - 00:30 COBRAH
Installations
Bodypainting by Post-Mortem.se
Shiner's corner
Love photography with Infra-camera by  James_Bondage
DJ's:
Linda Pistol, Rocco, Evelina Nässén, DJ Slice och DJ Slackerbith
Decor & Visuals:
Dekadance, Tac, Rob and pH7
Photographers:
Darklark (DS), James_Bondage (DS), Daniel Zajd, Lustmord (DS), Olav Holten (Pride)
** NOTE: Dekadance dresscode from Feb 2019 applies to this party, see
Dresscode page
for more information. You are welcome to choose your most colorful fetish clothes on this occasion, as we will bathe the premises in UV light. As an extension to our regular dresscode we also encourage and accept really extravagant outfits, think glitter, glam and glamour (in excess).
If you are unsure if your clothing is approved, send a picture to dresscode@dekadance.se well in advance of the party. Do you usually only wear black fetish clothes? You can supplement them with rainbows, glitter or something that shines in the UV light.
Volunteers are always needed, in order to jointly help with decorating, rigging, as crew during the event and much more together with us in the board, so please contact us at info@dekadance.se!