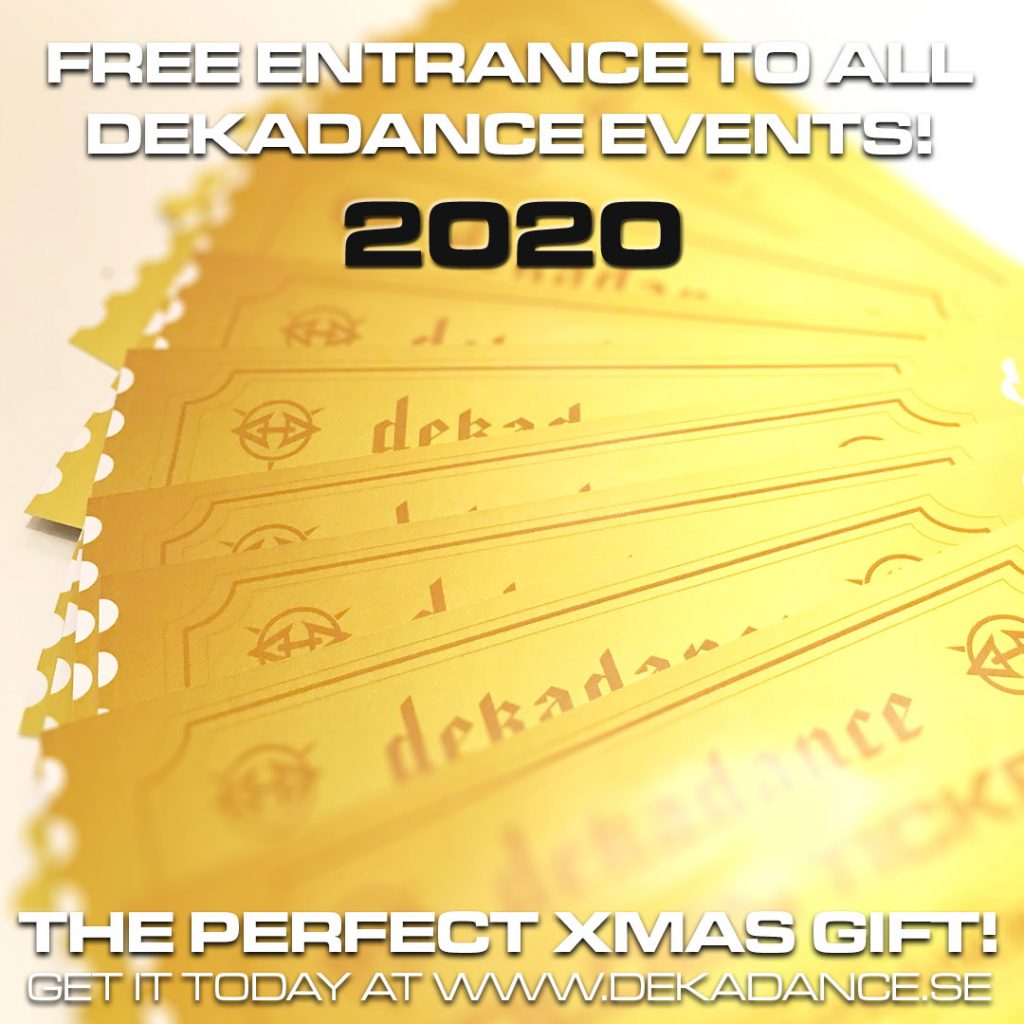 Vi upprepar återigen succén från de senaste tre åren och ger även för 2020 ut ett begränsat antal gyllene biljetter!
Vill du säkra en plats på samtliga fester som vi anordnar under året 2020 så kan du köpa en golden ticket redan nu. Eller ännu bättre: ge en till någon du tycker om! Den perfekta julklappen!
Biljetten kostar
1200 kronor
men du har möjlighet att lägga en högre summa och därigenom stödja föreningens fortsatta verksamhet.
Den gäller som inträde till alla fester och event som Dekadance anordnar under hela 2020, och den garanterar att du kan gå även på slutsålda event.
Du köper biljetten genom att Swisha valfri summa – dock minst 1200 kr – till Dekadance på följande Swishnummer: 
123 050 47 04
I meddelandet MÅSTE du skriva
för- och efternamn samt födelsedatum
 på den som ska ha biljetten, även om det är du själv. Vi registrerar då en e-biljett som gäller för hela 2020.

Om du vill köpa mer än en Golden Ticket, Swisha en gång för varje biljett.
TERMS & CONDITIONS



This ticket gives the owner free entrance to all Dekadance events during 2020.




In order to be eligible for free entrance the member must sign up to the specific event by logging in on the member site at www.dekadance.se, click on "Biljetter" and click on the button "Ja, ge mig en biljett!". Then you are registered as a participant to that event. This can be done at any time before the event starts.




A Dekadance membership is mandatory. It is free and obtained through www.dekadance.se.




This ticket does not automatically give the member free entrance to events arranged by partners of Dekadance.




The ticket does not include additional parts of an event, only the entrance. If Dekadance hosts an event with e.g. dinner, the ticket does not include the dinner cost, only the entrance/admission fee .




This ticket is non-transferable, non-refundable, and non-changeable.




In case the member is banned from one or more events, or their membership is cancelled, this ticket and its value will be considered forfeit.




This ticket does not grant the member any additional benefits not available to all members.




This is not a toy. To avoid suffocation, keep away from children.